Trip to Coorg
06 Jul 2006
The Route-7 gang from Juniper went for a weekend trip to Coorg in March. As promised, here's a short blog post from whatever I can remember (it's been a looong time). The rest will be said in multiples of a thousand words.
A brief note about Route-7: this is the group of people that happen to stay along several points which nearly lie on the line that connects C. V. Raman Nagar (the place our office is situated) and Basaveshwarnagar. All the people in Juniper who use the shuttle service and stay anywhere on the roads that connect these two places travel daily by the bus marked 'Route 7'. Carpooling, but in a mini-bus that seats 12 people. (It's grown to a 22-seater with around 16 of us since then.)
The place is around 6-7 hours' drive from Bangalore. We took the Mysore road to get there. Pradeep and Srivatsa organized the whole affair, with we (8 from route-7 and 2 from route-8; we made some exception there) starting out Friday night (24 March), reaching Kushalnagar at around 4 in the morning. This was the place where we were going to "stay", which basically means dump luggage and return for some sleep sometime later.
The bus journey of course was fun, with 'Antakshari' being played and generally singing songs. Most of us didn't sleep the entire duration of the trip.
Chikbalepet in Kushalnagar is where we stayed. The accomodation was wonderful. It was a nice bungalow with 2 bedrooms and one big hall + kitchen, fully furnished. We freshened up and started off to Talacauvery, the place where the river Cauvery -- or Kaveri, I'm still confused: official boards don't agree as well -- originates. We left around 5:30 - 6:00.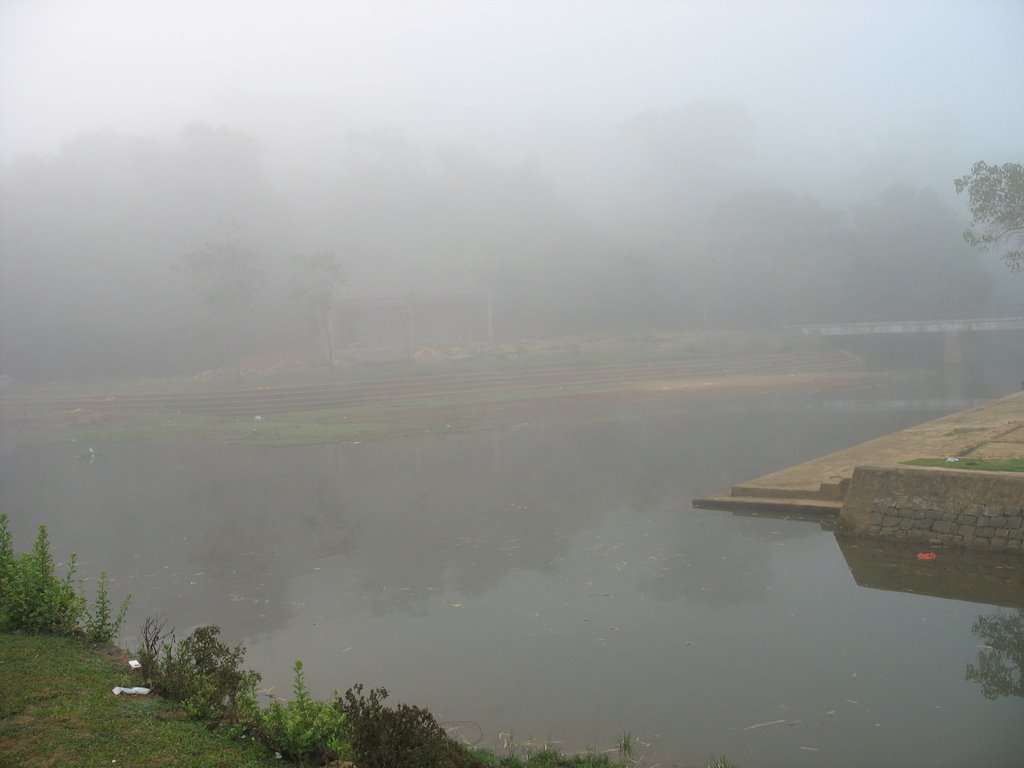 First off, we reached Baghamandala. Vatsa's plans of getting a holy dip and a bath were ruined as the water was just knee-deep and not very clean. This place also has some temples; we visited two temples, ate some breakfast in one of the nearby places that had a "decent name" (though making the decision wasn't easy -- the group was heavily divided over which one to go to -- it's fun fighting amongst yourselves when you haven't had food in a long time, haven't slept the whole night, have been travelling a lot and not had a bath).
We then went ahead to TalaCauvery. There's a water reserve there, which is symbolic of the birthplace of the river. The ones who wanted to get a holy dip did so. This was a scenic place, we got good shots of foggy mountains and the Sun behind the fog. After biding away some time here, we moved on and went to Irpu falls.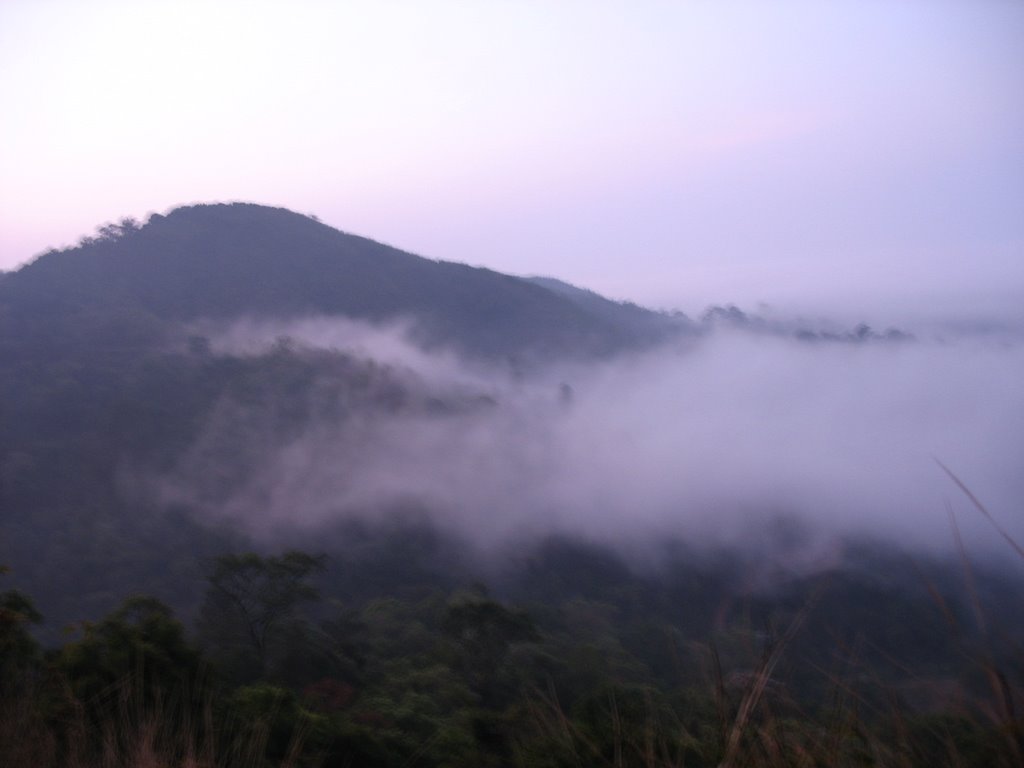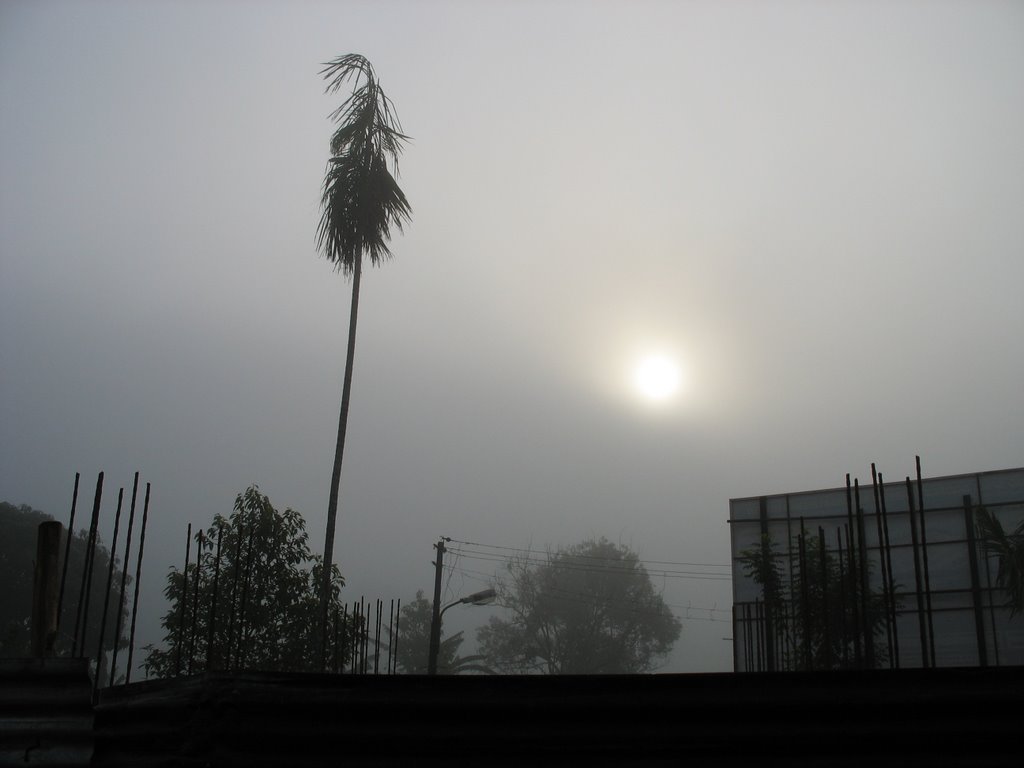 The Irpu falls are inside the Brahmagiri Wildlife Sancutary. We didn't have prior permission to get inside the Sanctuary, so we just walked over to the place near the waterfalls.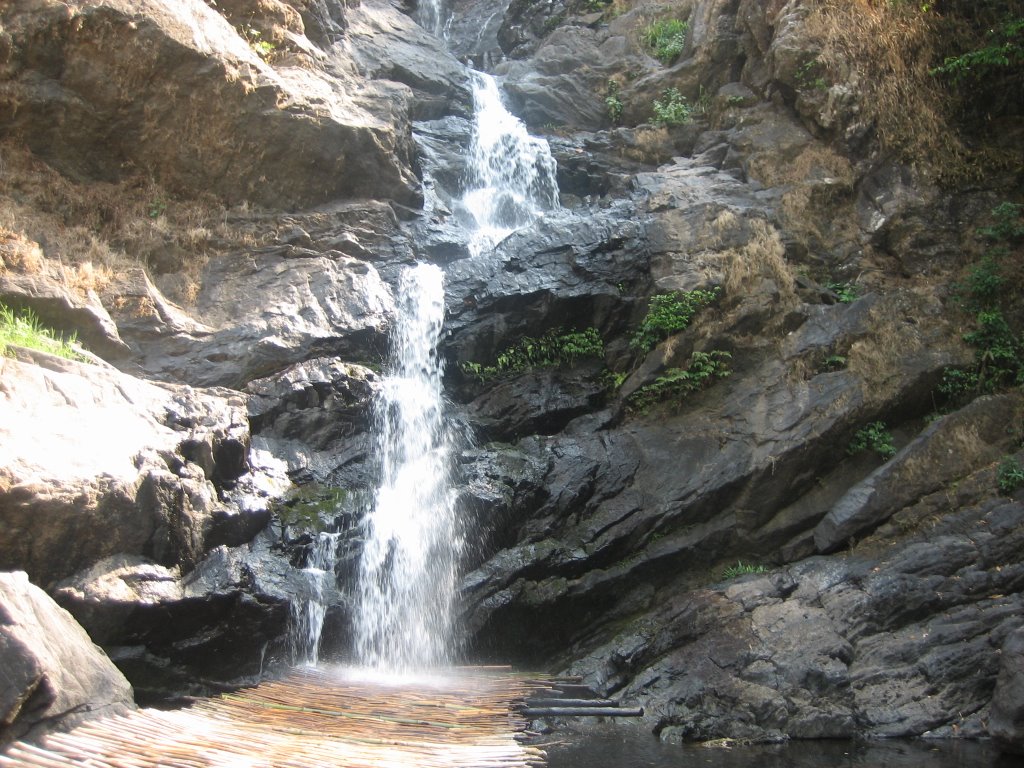 This was a lot of fun. We kept going back to the water. It was extremely cold and had a relatively strong current if you explored the area a bit and found the exact spot. A few unlucky ones who didn't get a spare set of clothes had to go off to another area later and dry themselves.
After we were through, we went back to Kushalnagar. We had lunch on the way. (Or did we have lunch before we reached the waterfalls? Don't remember now, just that I was very hungry. But that's not giving you any information.)
Back home, we lazed around, some slept off for a while. We were back travelling in no time at all, heading for dinner. The person who owned the place we were staying at, had suggested a restaurant nearby. We all went there, very exhausted and drowsy. After dinner, we had planned to play dumb charades and antakshari around a campfire. The campfire was lit and we did play a few rounds of DCs. However, the enthu just wasn't there among the folks who needed a sleep to get active. We did have a few interesting moments, though, like Kantharaj depicting 'Kal Ho Naa Ho'... (Heyyyy... Kantaben...?) and Vatsa enacting 'Eternal Sunshine of the Spotlesss Mind'.
After a good night's sleep, next day morning was spent just waiting for coffee. The bungalow we stayed at has a nice garden and it's surrounded by trees. The view of the Sun behind the fog in the morning made a great visual. The lady members quickly used the opportunity to get all dressed up and pose for umpteen photographs. Of course, they will be kept private.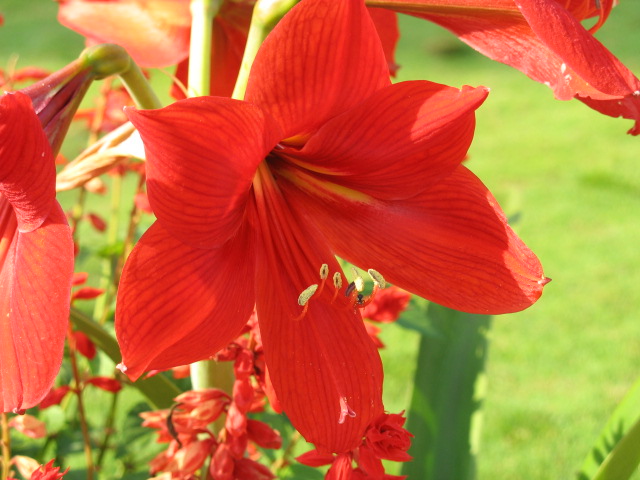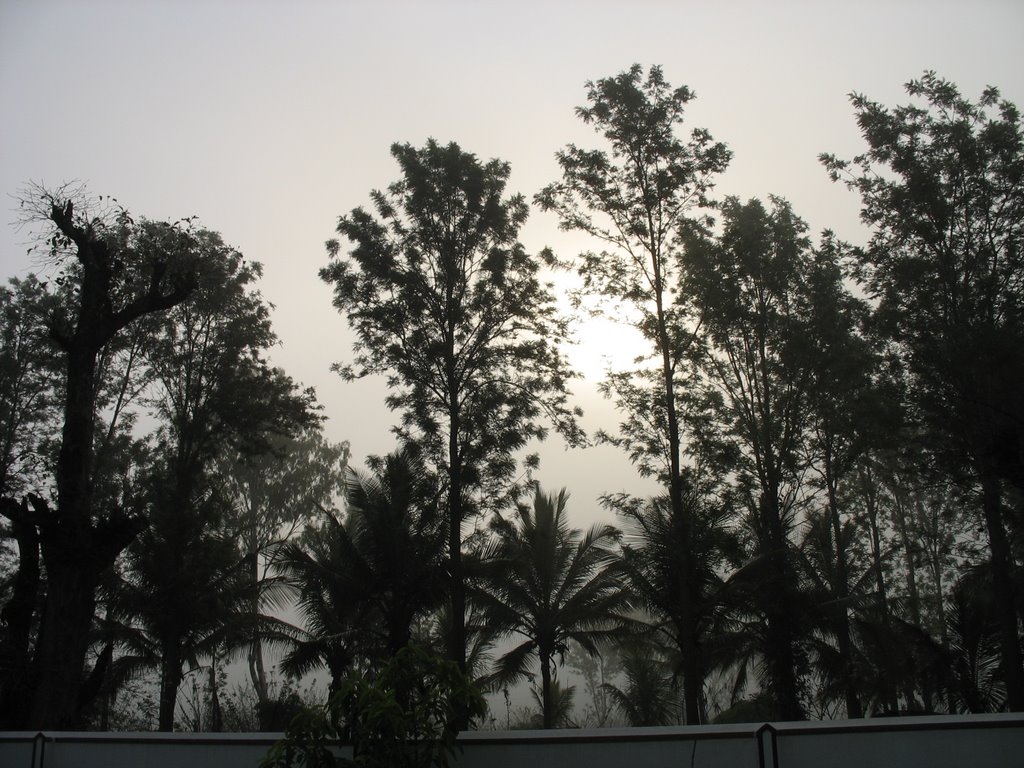 The delay of the coffee was too much for a few of us, and they went off to a nearby place where the Cauvery flows from to take a quick dip. The 'quick' not being quick enough, the rest decided to go there as well (of course, after the breakfast). This place was awesome. Easily has to be one of the most scenic places I've ever seen. I'll let the pictures speak.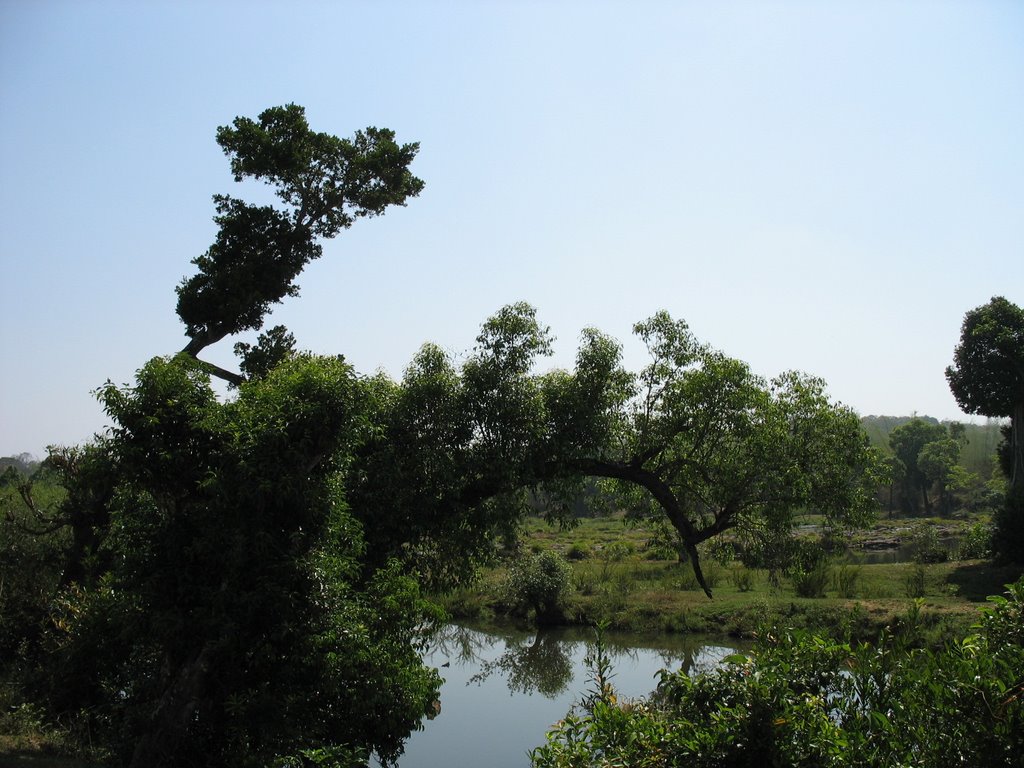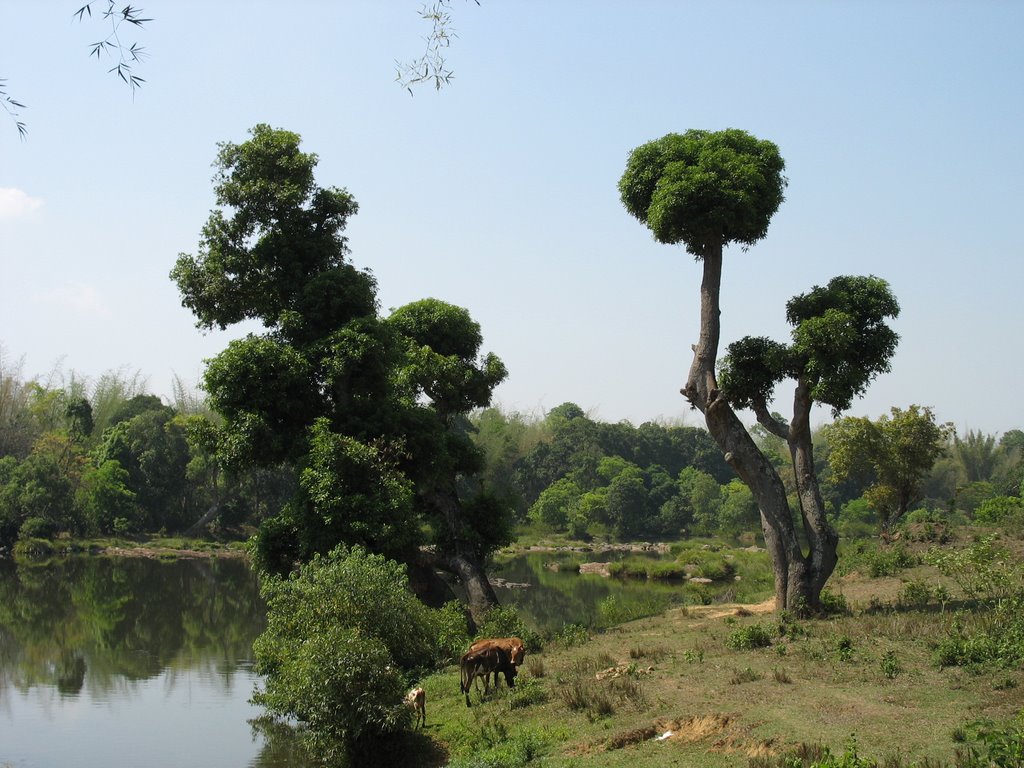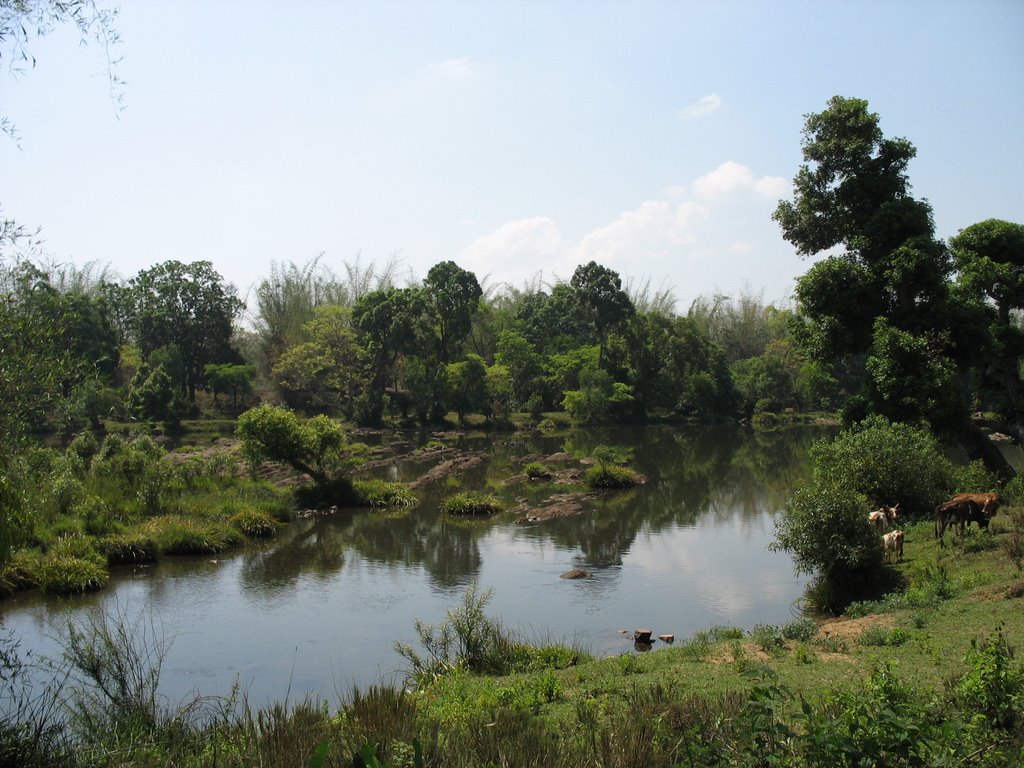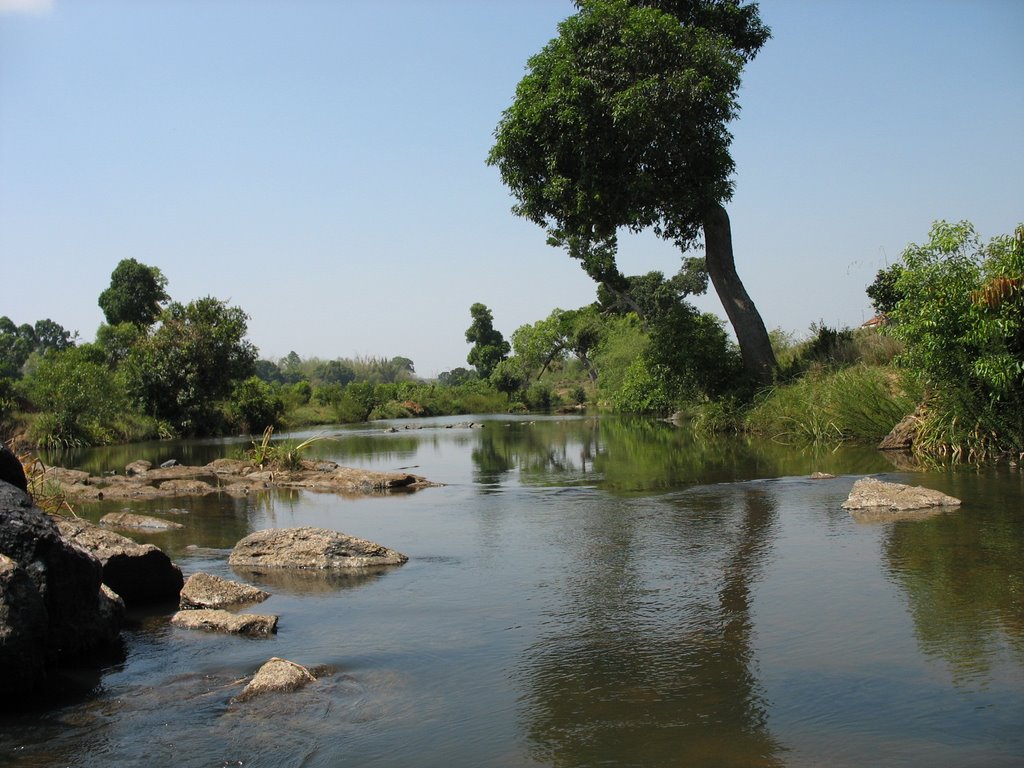 Soon afterwards, we started to make preparations for the return journey. On the way back, we stopped at Nisargadhama, a place that's a zoo and a picnic spot. We went boating, rode on an elephant, ate junk food and icecreams. We weren't much interested in the zoo part, though we did see some enclosure that had deer in it.
Further on the way back, we stopped by at a Buddhist temple (monastery?). This is also known as the Golden Temple. It's a beautiful place, very clean and quiet.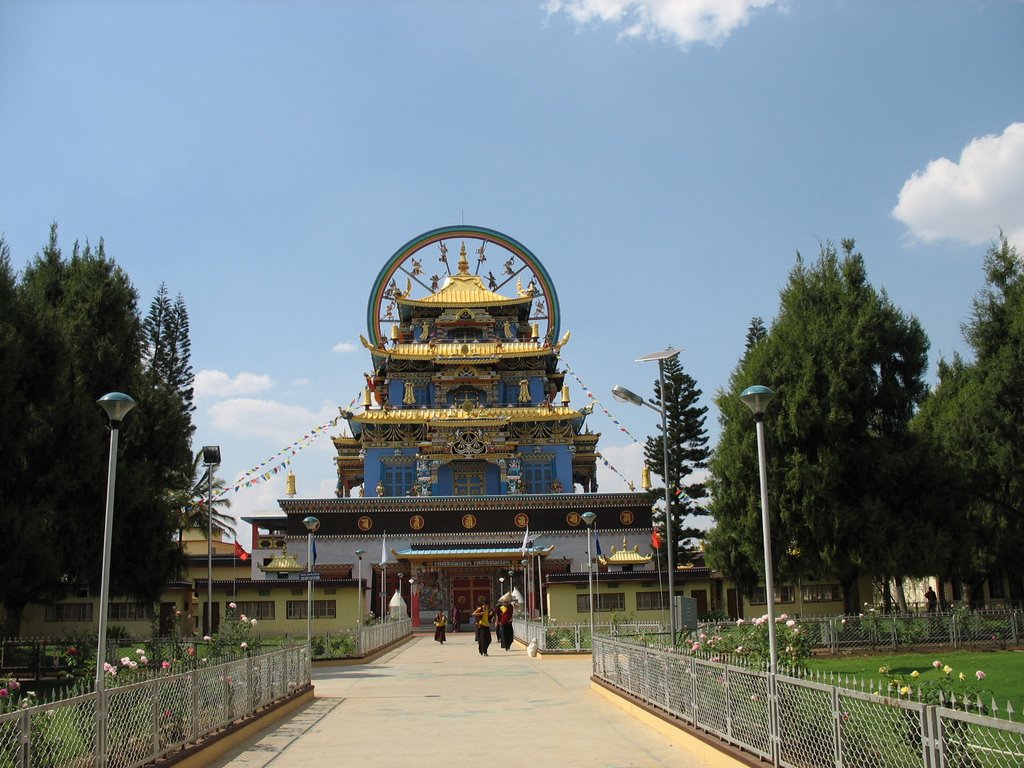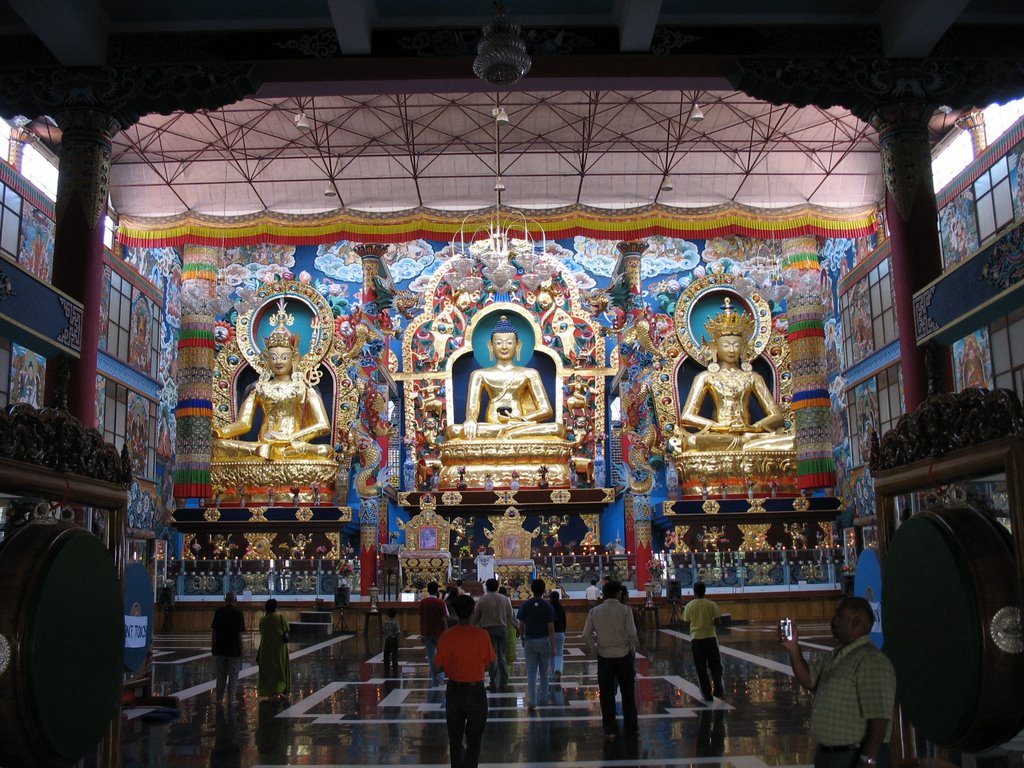 With more stops just for food, we relaxed in the bus while talking about generic issues pertaining to life, Earth and everything. Umm, well, not quite, but you get the idea.
We reached our destination at around 8 in the night; after dropping everyone, and ensuring everything went smoothly, the two organizers bid everyone adieu. Was a wonderful trip and a memorable experience. One of the most beautiful places I've visited, I'd recommend anyone visiting this part of the world to visit Coorg.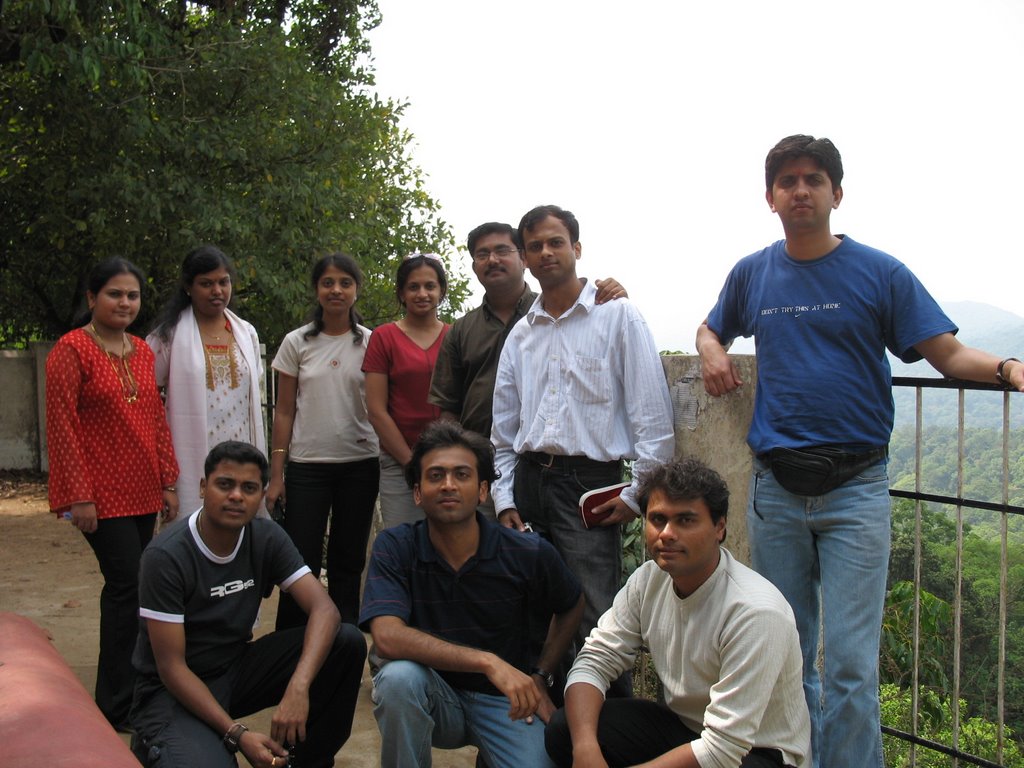 For more pictures, see the photos tagged Coorg on Flickr.