Honnemardu trip
10 Jul 2006
This is the same blog post I put up on the Junglee blog about our trip to Honnemardu last March.
What's a perfect start to a trip? A salsa dance performance by Team 5, 6, 7, 8. And that's exactly how the fun started. As part of a recruitment event organized by Juniper Networks Bangalore, we witnessed some cool moves by the dance troupe who did the Meringue and danced to some popular Hindi songs.
The fun continued throughout the trip and boy, did we have fun! Chirag says "I felt that the Honnemardu trip was more fun, than Honeyvalley trek. Maybe, just cos, there was more time (and energy) for games, fooling around, scaring people, howling at the moon, and being a pest, in general (Hint, hint ;)" A nice summary. Read on for the details. A special note deserves attention: no humans were scared to the extent to cause their death and no Albatrosses were killed during the entire trip.
Chirag, Shraman, Amit Jain, Jay and Sanjay organized this trip. Our schedule was to depart on Friday (the 10th), reach Honnemardu early Saturday, have fun, and leave for Bangalore Sunday afternoon. A group called 'Adventurers' organizes events at Honnemardu, like coracling, canoeing, some other water sports, stay, food, etc. However, they appeared to be pretty hostile towards non-Kannada-speaking population. Thanks go to Vinay for interfacing with them. Amit Jain had booked a 24-seater SRS Travels bus that would take us to Honnemardu and back.
The bus arrived half an hour early, quite a surprise. We left from office (C. V. Raman Nagar) around 10:20. Picked up a few folks along the way, who were spared of the waiting time this time around (see previous trip details for an explanation). The headcount confirmed there were 20 of us, and we were ready for the long drive.
People who counted on getting a sound sleep in the bus had to be disappointed, as Shraman declared the group's name is 'Dumb Charades Group' and not the Junglee group. The bus was divided in two teams, front half vs back half and off we were. The game was played with complete enthusiasm and full participation. We were afraid of not leaving out any movies to enact for the next two days.
However, we were running a bit late on our journey. We were meant to reach Honnemardu around 6 AM Saturday morning, but we thought we'd be lucky if we made it by 9. But we decided to make up for the lost time by adding a lot of fun in whatever we did. After about two hours of playing DCs, we thought it'd be best to catch up on sleep since we had a lot of activities lined up for the next day.
The last part of the journey was slow as the roads weren't good. We reached Honnemardu around 10 AM Saturday morning. We all had to get down and walk a bit as the bus couldn't travel "fully loaded". Once at the gather point, the Adventurers guy, Ganapti, who would be our guide, introduced himself and asked us to stand in a 'semi circle in a straight line', for introductions and head-count. This was a phrase that was to stick for the entire duration of the journey.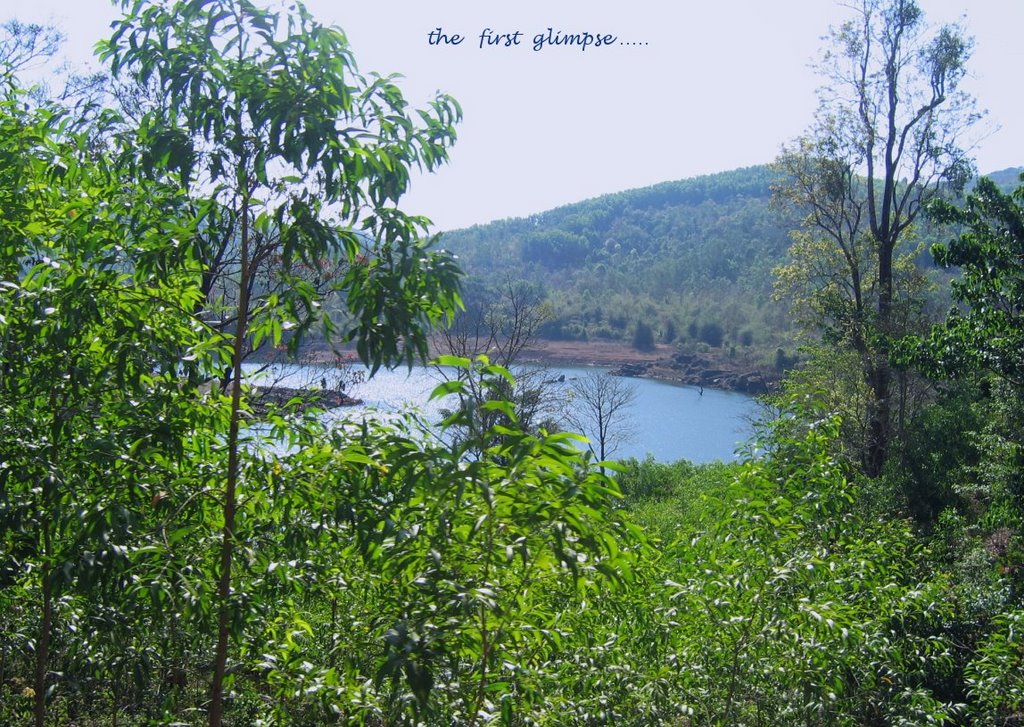 'Honne' means timber and 'mardu' means lots of. So 'Honnemardu' would mean a place that has a lot of timber trees. The village Honnemardu has been submerged in the waters of the river Sharavati. The place we were at, however, was named Honnemardu in remembrance of the submerged village. All we could see from here was water and trees.
Our first reactions on seeing the place were almost unanimous: "marvellous!" The place is an absolute treat for the eyes, with mountains, trees, water, islands and sand painted on a brilliant landscape. The whole effect was soothing to the eyes and we knew right away that spending just one day wasn't enough to take in everything that this wonderful place had to offer.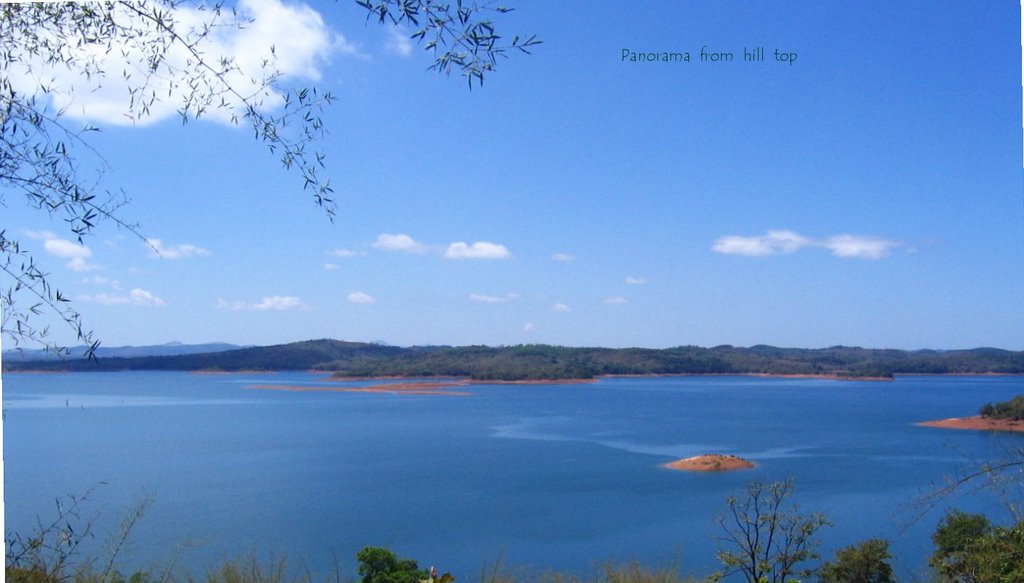 With everything set in the natural setting, Ganapati explained we'd have to fetch water out of a well and use it to brush our teeth, bathe, wash dishes, etc. Pretty exciting, we thought. To answer nature calls, there were three Indian-styled restrooms, one of which couldn't be locked. So we were left with just two. We had another option, though. We could go around some bushes and relieve ourselves (and cover the stuff with dry leaves, sand, etc.). There was no mobile phone network around this place, so we were now completely cut off from the outer world -- and we'd be one with nature.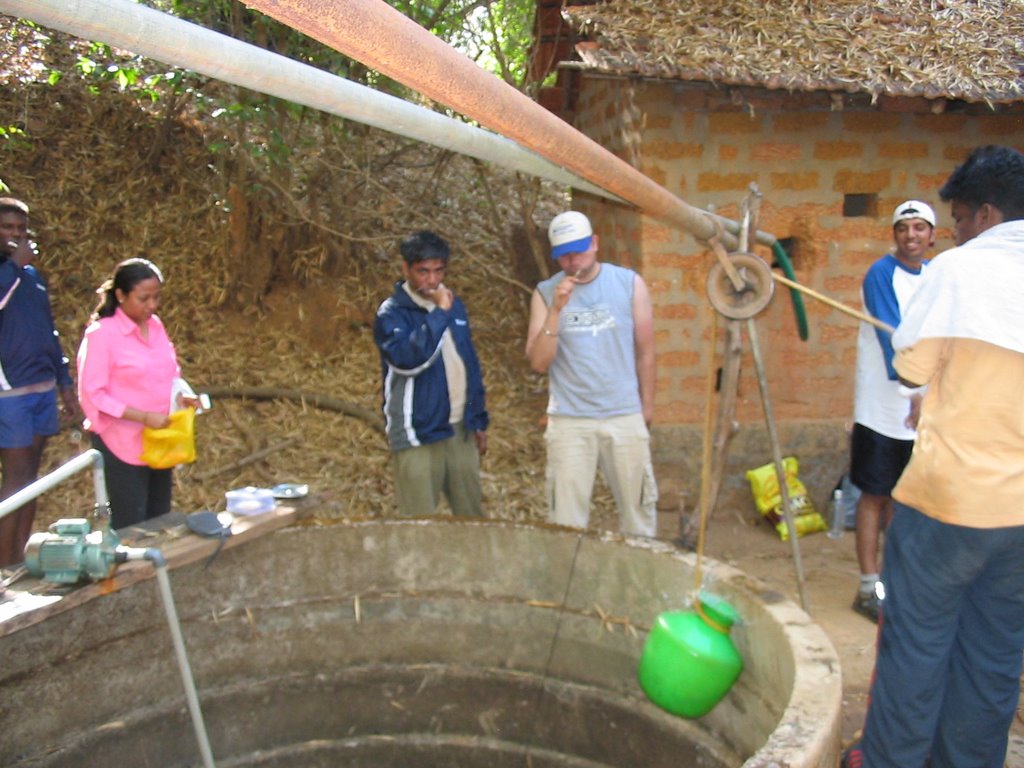 Ganapati had made the rules very clear: he'd serve breakfast only when all of us were ready as a group. After freshening up, we had a nice breakfast of idli-sambar. After having our fill, we went back to the well and washed the dishes. We left them near the eating area so that we won't have to get them again during lunch-time. We then trekked atop a small hill to put our bags in a room. A single room for 20 people. That would be OK, though, as we weren't expected to stay there. We'd spend the night on an island. Some people complained that this climb was worse than the entire Tadiyandamol trek. The terrain is quite rocky and filled with sand, so make sure you have your sports shoes around. Floaters aren't going to keep you on your feet for long on this climb. We quickly changed into swimming gear, applied sunscreen generously and were back down with just some spare clothes and cameras.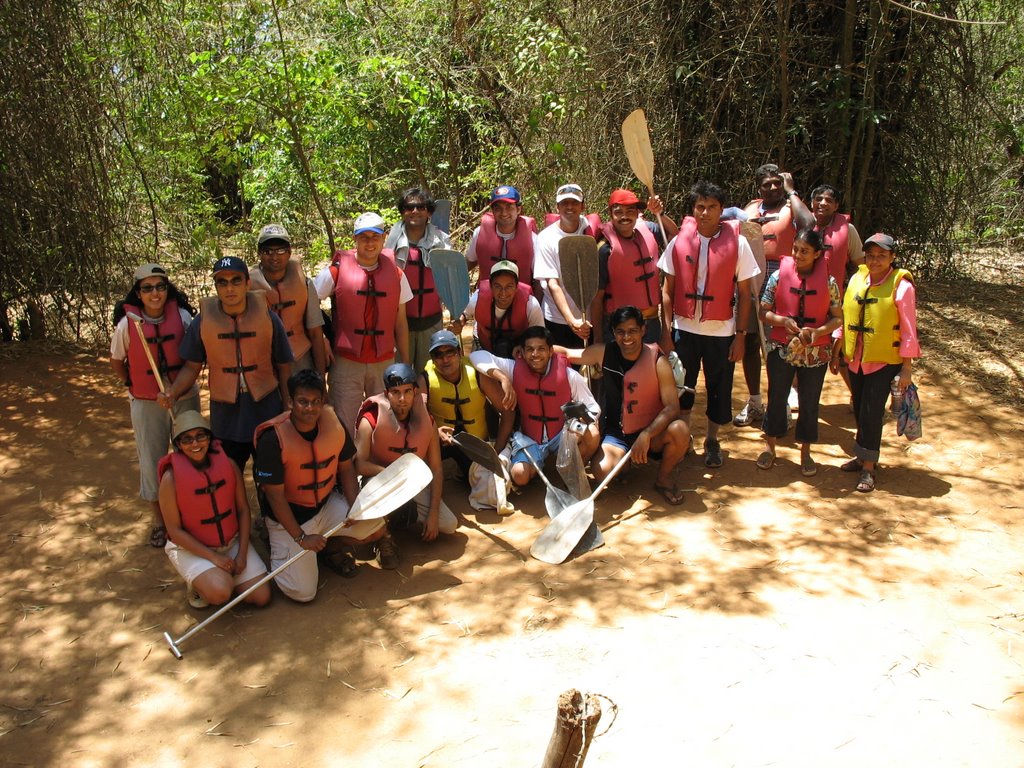 We then put on life jackets and grabbed some paddles. We were ready for coracling. Ganapti gave us all the instructions and we were first supposed to take a dip in the water just to acclamatise ourselves with it. This 'dip' turned out to be a nice swimming exercise which would continue for about an hour. Many of us didn't know swimming, so this was a good way to get rid of the fear of water or drowning. Each life jacket could handle a 100kgs, so we were all safe. With everyone floating around with ease, some of us started swimming around. There were a few (dead) trees around in the water, they made excellent jump-boards. Even the non-swimmers tried it. A few adventurous of us swam to an island. However, this wasn't good news for the rest of the group, as they were done with their share of swimming and they now had to wait for those people to come back to start with coracling.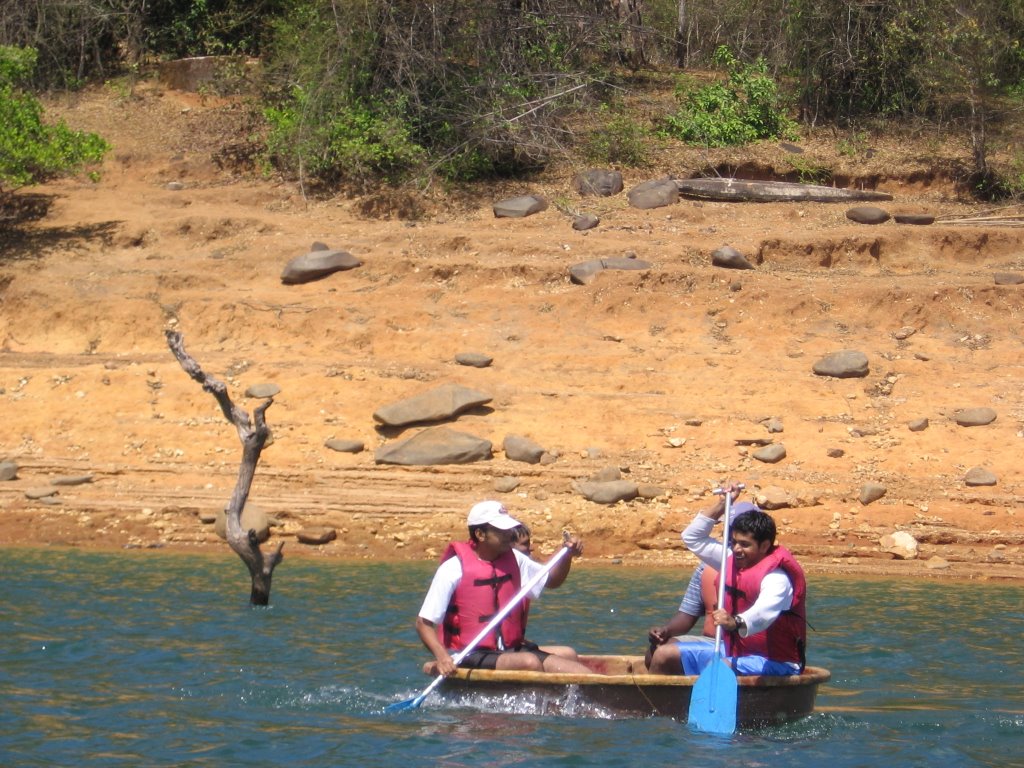 A coracle is like a cup floating on water, but it's very unstable. However, no coracle was overturned during our adventure. We did have fun racing around and banging into others. Each coracle can sit 4 people and two people row at a time. We went around some islands (there are plenty of them), and had general fun.
Some time into it, and we started feeling hungry. The swimming and rowing had shown its effect. We all started back and had some nice lunch. We were given an hour and a half to relax, after which we were to start towards the island to start our night stay. We didn't waste much time in starting games again. Dozing is for people who snore. The rest of us played Twenty Questions -- with no limit on the number of questions asked, which became a very enjoyable and enlightening experience for some. Who can guess the blue dot of the Blaupunkt ad campaign or an ashtray, the hygienic object that should be used by all smokers in any number of questions?
The one-and-half hour deadline was upon us, but we didn't want to wake up the people who were sleeping away. So we requested Ganapati to delay things for some more time. We were actually quite disturbed by the fact that we'd have to scale the mini-mountain again to fetch supplies for the night. We couldn't delay it much, and we had to get up there and get an extra pair of clothing, brushes, torches, mosquito repellents, etc. At least, we were supposed to. Most of us forgot the torches and the brushes. We remembered to carry the mosquito repellents, though. However, there were no mosquitoes on the island.
Back down, we put on the life jackets once more ("No going inside water without life jackets!") and were ready for the cruise to one of the islands. The one that Ganapati selected for us was filled with trees... some were already scared at the prospect of spending the night in a jungle.
With our life jackets on, we got hold of the paddles. However, this time, we also carried with us tents and sleeping mats (that's what they call foam out there). We selected our coracles and were rowing off to the island. Once there, Ganapati guided us through the dense tree cover to a plain flat land which would be our base for the night.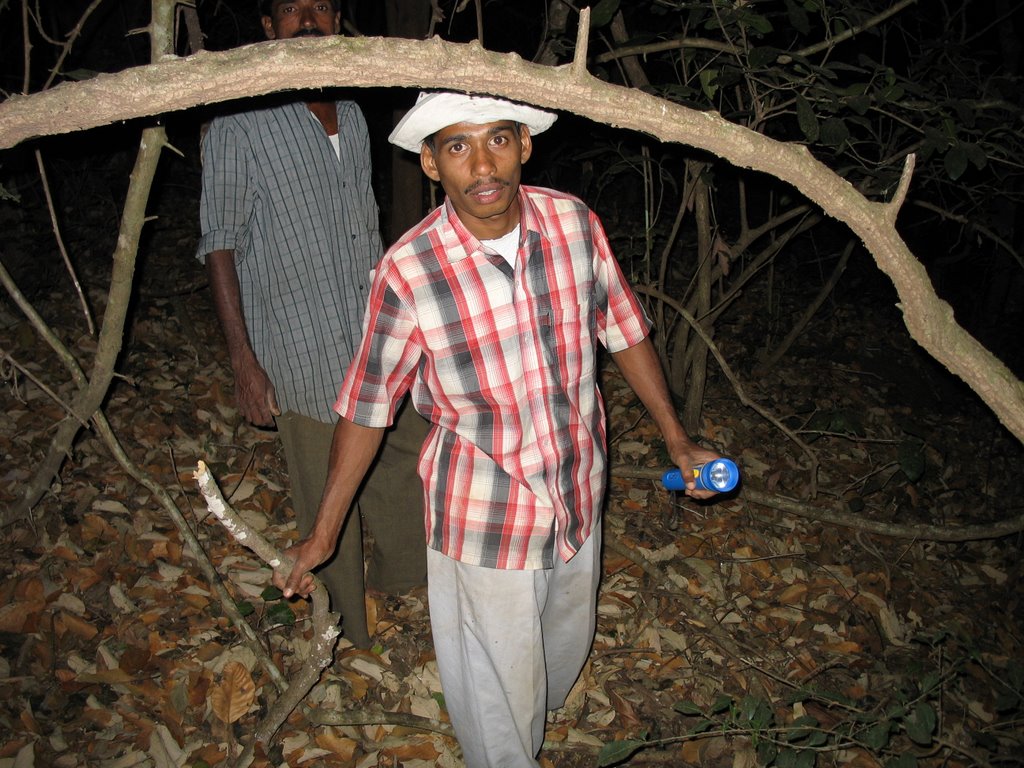 We then again made our way through the forest to collect firewood for the campfire. In pitch darkness, with just a couple of torches handy, we followed Ganapati. Keeping pace with him was very difficult; we had to take care of not stepping inside some hole or be alert of any snakes that could be dangling on the trees (thankfully, there were none). We formed a big line and kept passing the firewood collected -- by just breaking the branches off trees, no axe used -- to the last person in the queue. With Ganapati declaring we had collected enough, we made our way back to the base.
Next lesson was to put up the tents. The tents were big enough for four people. Ganapati and his accomplice, Babu, demonstrated how to do it with one tent. The rest of us then got busy into raising the others. That took some time. Amidst a lot of confusion, everyone trying to grab a rope or a rod from wherever they could find, resulting in everyone getting delayed. Ganapati serially helped each group and finally we were all set. Except for our tent, as one of the rods needed to raise our tent was missing. We'd have to wait for Ganapati to come back with another one. We then moved on to start the campfire.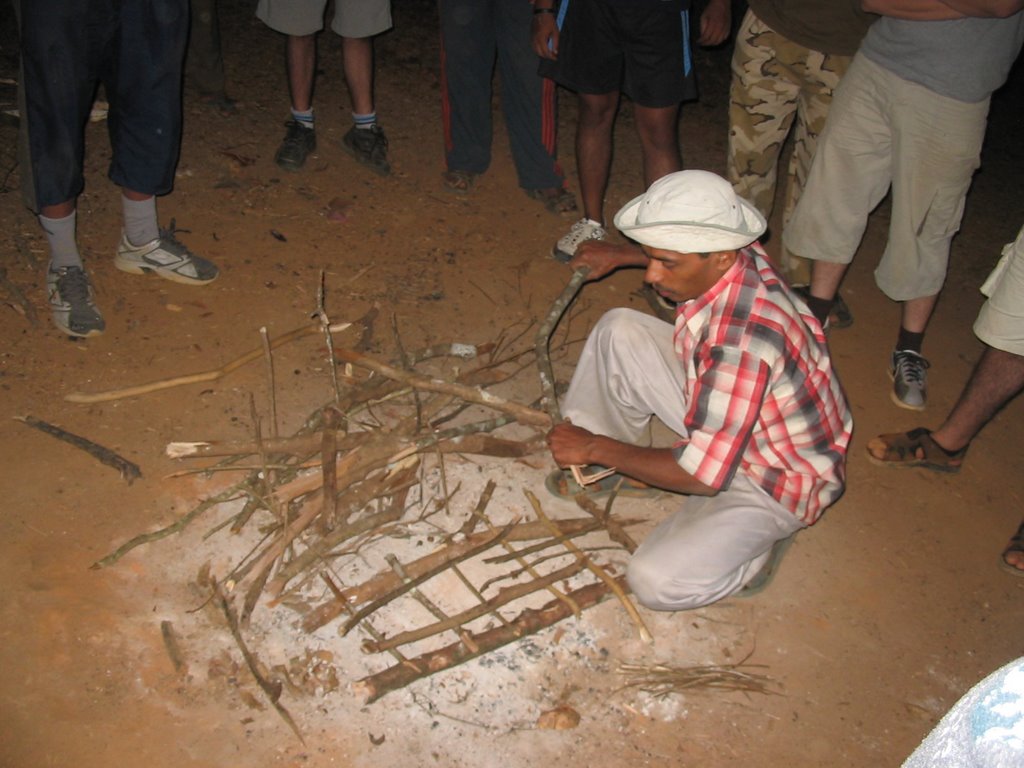 Ganapati showed us the various ways in which campfires are lighted: alter, criss-cross, star (or the Hindi movie-style romantic for-two campfire). They are in decreasing order of intensity. Alter's used for big groups, whereas a star suffices for just 2-3. He said a criss-cross one would be sufficient for us.
Once done, he declared we could start our cultural programmes, while he went back and came with dinner some time later.
Now, cultural programmes here just mean one thing: dumb charades. However, we did contemplate playing some other games like Truth or Dare, Twenty Questions, Mad Ads, Whose Line Is It Anyway, Antakshari and so on. Guess what we ended up doing?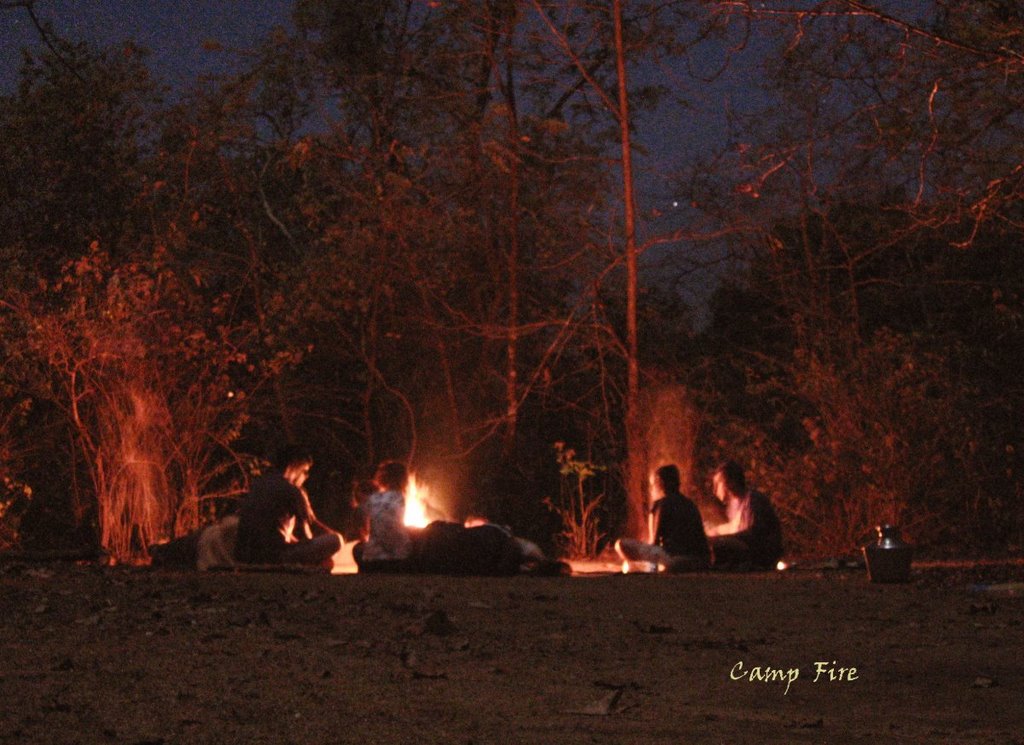 Narrating ghost stories. Now this is something we wouldn't have normally done. But given that all the members of the group were bold enough and no one was really scared of ghosts, this made it slightly challenging to tell a really scary story. Yeah, kidding. "Some people" already had their hands all over their ears. Add to that a white rat that was doing the rounds in a near-by bush. The setting was perfect. How could we let go of a chance to really scare the others out?
A closed group of four people decided to play a prank on the rest of the group. We would throw some stones in the bush where the rat was skimpering around. We would then stare in the general direction of the bushes for a while and then scream out loud while just dropping ourselves towards the campfire. And we did exactly the same thing.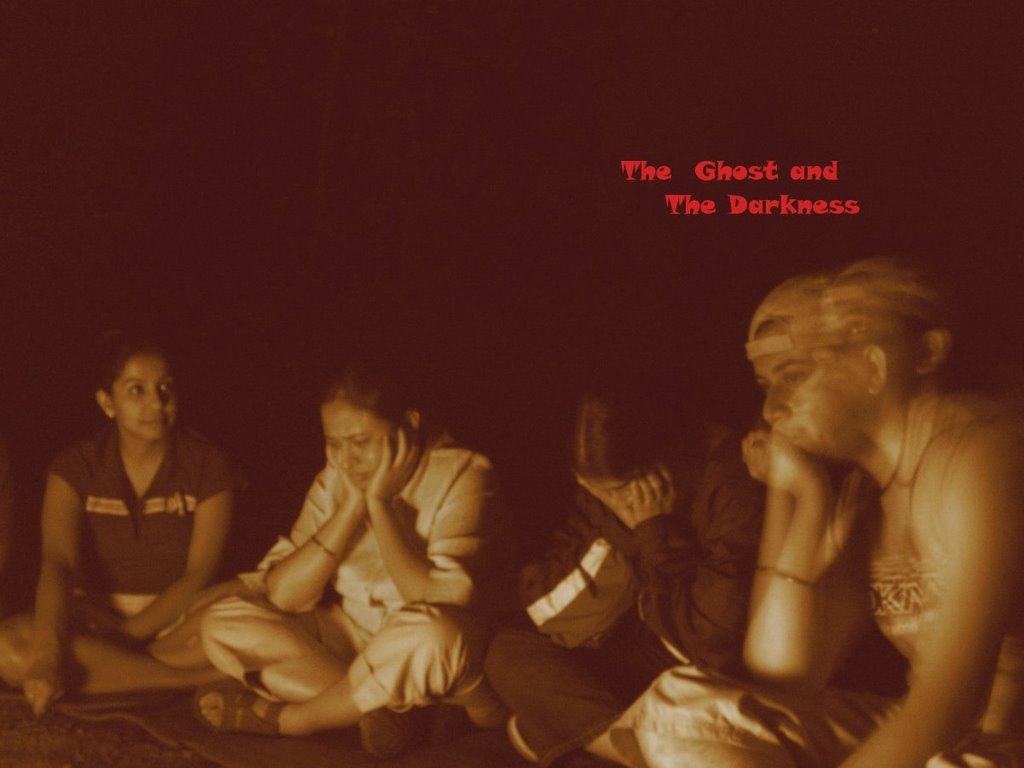 Let me tell you, the effect of the whole thing was enormous. We achieved more than we expected. Almost everyone was scared. The ladies didn't stop screaming.
That done, we returned to our games. We played some games that needed observation and a lot of thinking -- the one with the ups and downs and "who can successfully go to the main land from the island" -- sorry, can't explain in detail as it might ruin the fun we can have with new people in the next trip. This game can just be played once; once you know what it is, you just know it.
By the time we were finished with the second game, Ganapati and Babu came in with dinner. We were all too happy at the sight of it and lapped it up. Yummy.
During dinner, however, we thought of playing another prank. But there was a problem. Whenever anyone saw the four people huddled together, it smelled badness to them. They all tried to join in the conversation. And more people meant more ideas -- to keep themselves safe :-) We ended up deciding on a single target. Jay came up with an excellent idea. Wear a hooded sweatshirt frontside back. This way, the face can be covered with the hood and the backside of the hair is left open. The hands are folded in front of the back and the person sits with his back towards the subject. This gives the appearance of the face being absent but everything else being intact. And just when the subject's about to realize what's wrong, a flashlight (kept in the hands) glows focussing on the (absent) face.
Chirag volunteered to do this. He sat in a tent and Jay set everything up. The effect was quite spooky. The problem now was: how do we get the subject to enter the tent? Abhishek had suggested "Truth or Dare" earlier. We decided we'd go ahead with the game now. And make the subject 'dare'. Funnily enough, the subject himself suggested the game again. Not only that, he also volunteered to dare something, just so that people would play the game. We thought he walked right into our plan. After dilly-dallying for a while, we suggested he visit each tent and shout out his name loud. The campfire was at a distance from the tents, so we couldn't gauge the reaction from where we were, but we did hear a scream.
A plan was also made to scare us... which failed. I was the subject this time, with some "spooky" taps on my shoulders meant to scare me. Think of something better next time!
By this time, no one would trust us. Tension was mounting. So dumb charades was suggested once again, and we all agreed this time. A couple of rounds later, though, we thought it was getting boring. There wasn't enough visibility as well. So we decided to get back to Twenty Questions. But we ended up asking some quizzes and lateral thinking puzzles. This worked, and we all put on our thinking caps. Which meant sleep for some of us. After a day with a lot of activities, the energy levels were low, but most of the group was interested in the puzzles and then the thinking began. This continued for about an hour and a half, in which three puzzles were cracked. Not bad. Some smart people woke up at the exact time a puzzle was cracked, listed to the answer, and went back to their "thinking mode". People who missed the session, check near the end. The questions are put up there. People who enjoyed it, check there as well. There are bonus questions for you.
After the three puzzles, almost everyone was exhausted physically as well as mentally. I say almost everyone, as after the others went to sleep, four people started "howling at the moon". But not before the campfire was extinguished. Ganapati had instructed strictly to extinguish it and throw some water on it so that the ashes flowed away. The fire was extinguished and the ashes were washed away. Back to the "howling". Basically, they started singing melodious Hindi songs so that the others would get a sound sleep. They must've touched some chords deep within, as a couple of people joined them, and others requested for songs. Loud but soothing voices filled the air. The Manna Deys and Kishore Kumars of the team (and also the Altaf Rajas), however, received not much appreciation later. Everyone was just too tired. The singers, however, stuck on to their singing job ("Forest" Gump?) and kept everyone entertained. By the sounds of it, they were enjoying it. And by the requests and comments, it seemed even the audience was enjoying it.
It wasn't as if the audience didn't like the singing, but they were concerned about the vocal health of the singers. Repeated requests to stop from the audience failed to deter the maestros. They, however, stopped just after an hour into it. The requests (both kinds, songs and stoppings) had stopped. Afraid of singing just to the moon, the singers backed off. They too went to sleep. But there were some noises to be heard at random intervals during the night.
Sleeping inside the tents was an interesting experience. With people snoring around you, sleep is something that was hard to come by. Add to that the uneven "bed" and the chilly winds that blowed outside. Even lying down wasn't an interesting prospect. But what else could be done? Nothing. So we just lay there, playing guess-the-person game ("Pehchaan kaun?") across tents. And we slept while playing it.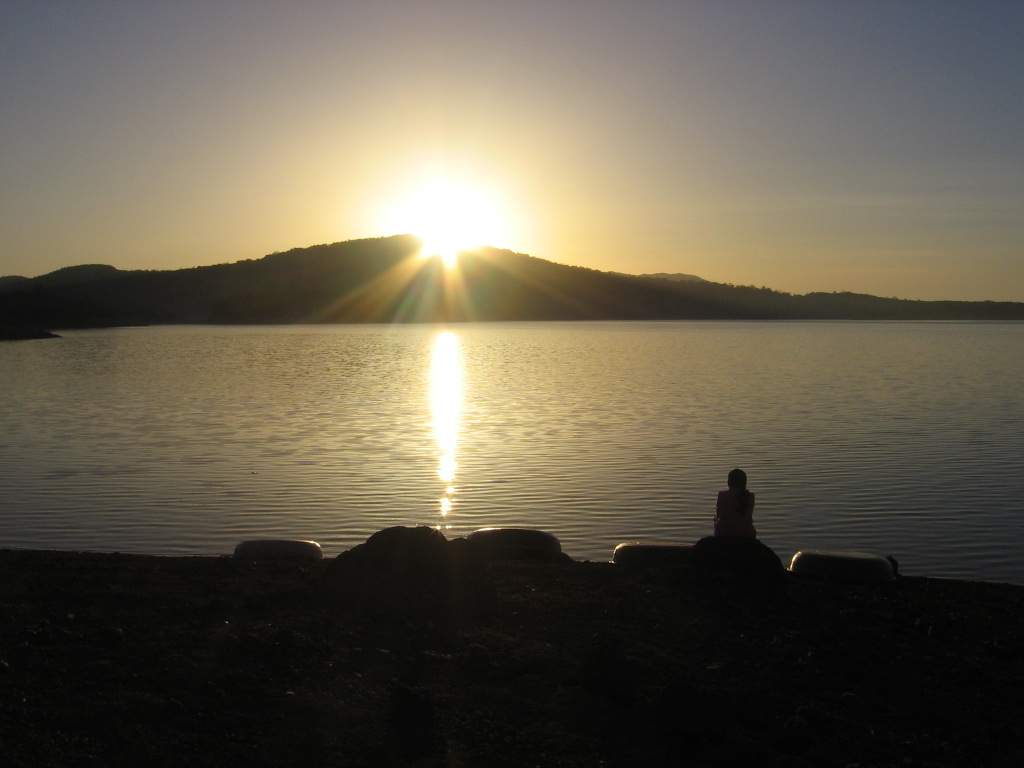 Light sleepers amongst us were the lucky ones who could catch a glimpse of the rising sun. The photos tell us that we surely did miss the spectacle.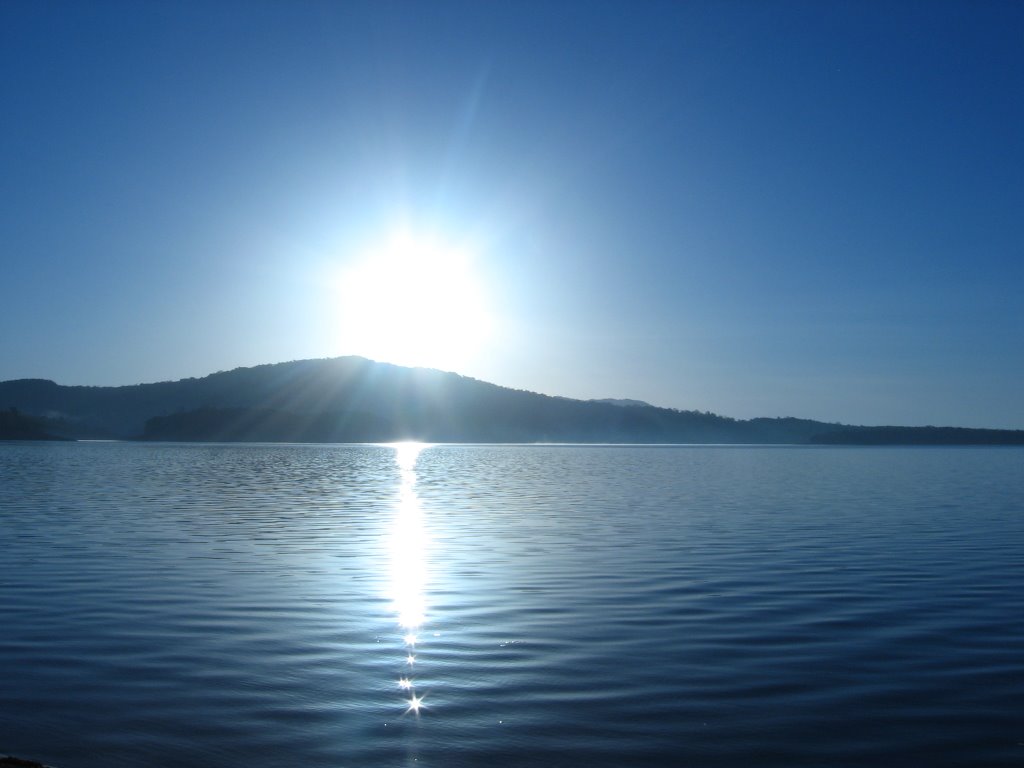 Later, when everyone was awake and freshened up, we removed the tents, folded them and started getting ready for the trip back to the main land. Ganapati walked in with tea and snacks, but we decided to go to the main land and have breakfast. So off we were again on our coracles.
Back on the main land, we had breakfast, washed the plates by the well and got ready for another adventure out in the waters. This time, it was canoeing.
A canoe sits two people. The one in the front rows ahead and the one behind steers. We all went in different directions; some towards the dam, some towards the island on which we were just some time back, and some towards other islands on the other side of the landscape. There are some absolutely marvellous views you get of the islands and the water from the middle of the river. So it's really exciting to row away and just stay on at a point and admire the nature.
Everything went smoothly for most of the part. Except for one incidence -- one canoe was overturned. This was mostly due to not following the instructions that Ganapati had given; so it wasn't very bad. Of course, the life jackets saved the people, but the camera had a nice bath. A paddle was lost in the waters, so Ganapati had to row down to the spot and help the folks.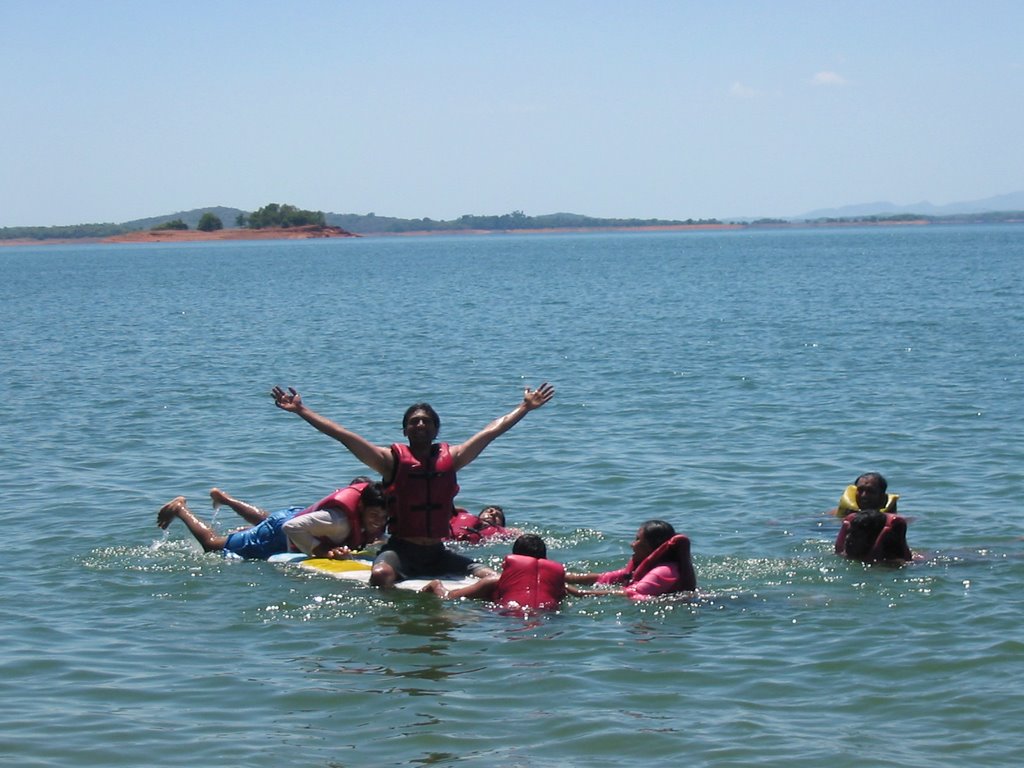 There also was a surf board (I'm not sure if it was a surf board, but let's call it that). And a lot of fun was had in toppling people over while they perched on it or while they attempted to get on it. This probably was the most exciting water sport we played, as there were a lot of people participating and we always have fun when we see people falling off into waters. No?
We had decided to leave by 12:30, so that we could reach Bangalore around 10, max. 11 in the night. However, we were in the waters till 1:15 PM. We quickly trudged up the mighty hill, got our stuff down, and had our lunch. A few people lazy enough to not wash the plates just left the stuff behind. With everything wound up, this was the time to get into the semicircle again, do a head-count and pose for photographs with Ganapati.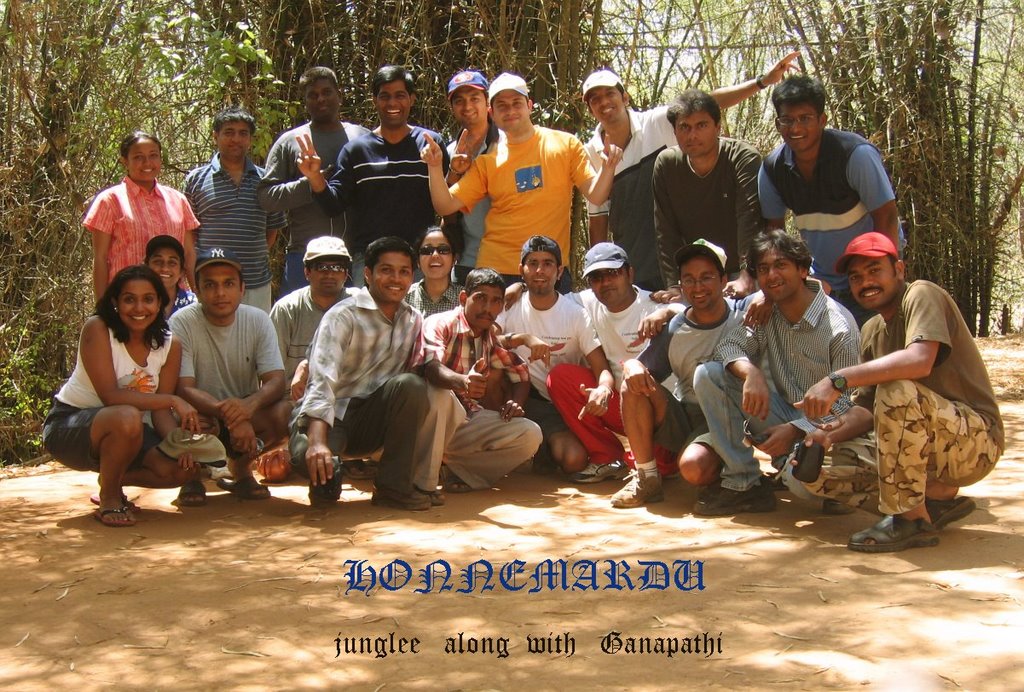 We all boarded the bus, eager to have more fun onboard. During the forward journey, the driver had put on some songs from 'Bunty aur Babli'. And just when 'Kajra' was about to start, we reached the destination. Everyone was looking forward to 'Kajra' now, so on public demand, we all sat watching songs. 'Kajra' was followed by 'Dhoom' and other Abhishek Bachchan movie songs. Thankfully -- as we could get out of this ordeal -- we soon reached a place where we could get some 'refreshments'. We had some 'tender coconut' water as well -- and people say they won't get such delicious stuff anywhere in Bangalore.
Once back in the bus, we started off with our dumb charades. Movie names were followed by movie scenes. A good couple of hours into it, and we still didn't run out of names from the database. All this while having some snacks and 'water'.
Later, we moved on to other games. Twenty Questions was restarted. And while this was being played, a new game was invented. Credit goes to Chirag for the idea and Shraman for the rules. There were thoughts of patenting the game. But I guess writing about it here makes it prior art. So folks, you won't get a patent for 'Pehchaan Kaun'. Yes, that's the name of the game. That's the completely original and novel name given to the game by Shraman.
It goes like this: Now that we'd spent two days together, we knew something about the twenty people. A team thinks of someone and the rival team guesses who the person is. Just five questions and one guess are allowed. To make the whole thing more interesting, another rider was added: a question once asked cannot be repeated later (by either of the teams). A very fun and interesting game, surely. It involved a lot of lateral thinking to come up with new questions to essentially get the answers you want. Like 'is he wearing shorts?' or 'is he wearing a full-sleeved shirt with the sleeves rolled up?'
Definitely a fun game. Things started getting tight too soon, so we had to return to our Twenty Questions. This time around, we played it completely professionally. We had two teams and a referee. The ref took his job very seriously, to the last hash. When a question was asked, it was confirmed from both the teams involved if it was a valid question and if the question was accepted. Once this was done, the question count was incremented and both teams were notified of the number of questions that were asked, the number of questions that can be asked and the number of guesses that could be made. This wasn't the only process that we introduced. After a question was asked, the team that had thought of the personality went into discussion mode. Only after being thoroughly satisfied with the answer they were about to give, and making sure it didn't mislead the other team, would the answer be announced. So a typical round went thus:
Team A: Yes, we've thought of something.
Team B: Real or fictional?
Referee: 1 down, 19 to go!
Team A: Real.
<Discussion ensues. Team B discusses what's the best question to ask next. Team A discusses life.>
Team B: Male or female?
Referee: 2 down. 18 questions and 3 guesses remain.
<Discussion ensues. Team B thinks of next questions to ask for either case. Team A discusses life. 5 minutes later...>
Team A: Definitely male.
With personalities to guess like Tenzing Norgay, Chelsea Clinton and so on, we never got bored. It was challenging and fun. On the way back, we stopped near Tumkur at a dhaba and had our dinner, which was served cold. The referee, of course, didn't forget the count during the time we had dinner and went back to gaming mode.
We reached Bangalore in another hour's time and dropped people along the way. This marked the end of a truly entertaining and exciting trip. To say we had fun would be an understatement. We lived up to the original and the new names of the group: 'Junglee' and 'DC'. I guess we have a new entry to make there as well... 'PK'.
Lateral Thinking questions:
5. Man goes to a restaurant. Orders for an Albatross. He eats one piece of it and dies.
6. A man is in his car in an open space. He switches on the radio, listens to it for some time and dies.
7. A man carries his umbrella to his office everyday (regardless of the season). When he switches his job, he stops carrying the umbrella.
8. A dead man lies in an open field with just a backpack.
5. A man walks into a bar and asks for water. The bartender points a gun at him. The man thanks the bartender and leaves.
Bonus questions:
6. Music stops, woman dies.
7. A rope breaks. A bell rings. A man dies.
8. A feather lies next to a dead man.